About Weathersby Guild New Mexico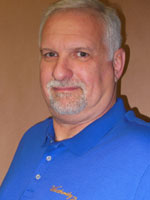 Marty Blons is the master craftsman behind Weathersby Guild New Mexico. Marty's passion for furniture repair and restoration began as a hobby. Having mastered Weathersby Guild's legendary training, Marty transformed this passion into a full-time career. In addition to his trade skills, Marty brings a wealth of business expertise and management experience to Weathersby Guild New Mexico. Marty has completed the rigorous Weathersby Guild training program and is licensed and insured in New Mexico. His professionalism and craftsmanship are recognized by his membership in national professional organizations, including:
About Weathersby Guild
Weathersby Guild started as a family business and has grown to become the industry leader for furniture repair and restoration services and insurance claims handling.
Kent Weathersby learned the craft of furniture restoration from his father who learned it from his father. After providing quality furniture restoration services through his company in Atlanta, GA, Weathersby established a training division—the Weathersby Guild.
Today, Weathersby Guild trains talented artisans in the best practices in the furniture restoration and repair industry as well provides the education needed to promptly and successfully administer insurance claims. By administering the most thorough training program in the industry and carefully selecting apprentices, Weathersby Guild can confidently offer its legacy of excellence nationally.
About Your Service
The Weathersby Guild legacy of excellence extends beyond the craftsmanship applied to your furniture repair and restoration; it applies to your entire experience with Weathersby Guild New Mexico.
When you contact Weathersby Guild New Mexico, you receive personal attention from master craftsman Marty Blons. With free online estimates and both on-site and in-shop furniture repair, restoration and refinishing service in the greater Albuquerque and Santa Fe areas, rest assured your furniture repairs receive prompt, competent and uncompromising care.
A Legacy of Excellence in the Land of Enchantment
Weathersby Guild New Mexico provides exceptional residential and commercial furniture repair and restoration service.
Call master craftsman Marty Blons for a free estimate.
505-709-0889